CATTLE SUPPLY ALLIANCES
Great Beef Begins with Great Cattle
Long-Standing Alliances
Our success starts in the heart of the American Midwest, where we've served as a trusted partner to ranchers, feeders and family farmers. By partnering with suppliers who share our values, we identify opportunities to improve the quality and welfare of our cattle supply. Our supply partners are continually enhancing their cattle genetics, animal care programs and environmental practices to sustainably produce consistent, high-quality cattle.
---
U.S. Premium Beef®
Our dedication to our partners is exemplified through our unique relationship with U.S. Premium Beef, a National Beef® owner and cattle supply partner for over 20 years. U.S. Premium Beef's farmers and ranchers have provided us with a steady supply of the highest quality cattle—a distinctive market advantage. With over 1,800 producers across 37 states, U.S. Premium Beef represents all segments of the beef industry.
---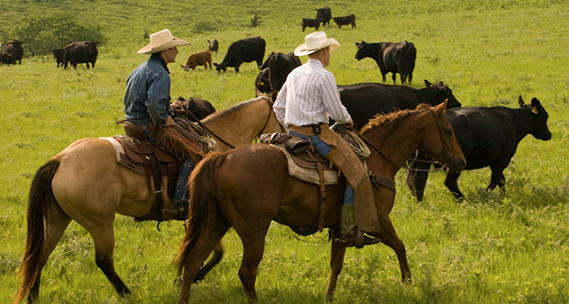 Iowa Premium National Beef is proud to partner with the cattle producers of Iowa Premium. Sourcing from small family farms in Iowa and its surrounding areas, Iowa Premium abides by the region's belief that growing crops and raising livestock go hand-in-hand.
Independent Suppliers In addition to our core alliances, National Beef also partners with leading independent cattle feeders, most within a 200-mile radius of our beef processing facilities in Western Kansas. These suppliers share with National Beef an unwavering commitment to maintaining strict standards of quality.
---
Committed to Animal Care
We have implemented an integrated animal welfare and handling program that includes training, monitoring and auditing to ensure we meet or exceed all USDA mandated protocols and standards. Our animal care facilities are designed based on the industry's best practices and influenced by research from leading animal handling experts.