A Partner You Can Count on
Inside Every Box
Experience the National Beef® Difference
1-800-449-BEEF (2333)
We Work for You
National Beef® brings more to the table than a reliable supply of consistent, high-quality beef. We meet your every market need, from programs that build out your meat case to support that helps you win. And when your market changes, we change with it—we're flexible enough to adapt to your needs, no matter the demand. Why? Because we're your true partner, showing up for your operation every day in every way.
Beef Built for Your Business
Explore our partner programs and see the full range of solutions National Beef offers to help you win in your marketplace.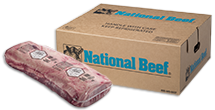 Our Value-Added Brands
We offer a beef brand for every shopper—along with the marketing support to help you sell it. 
See Our Brands
Food Safety That Raises the Bar
National Beef exceeds the industry standard for product safety with our Biologic® Food Safety System. With comprehensive training, leading interventions and a six-zone safety barrier, our innovative program ensures cleaner, safer beef and gives you peace of mind—so you can focus on your business.
Learn More