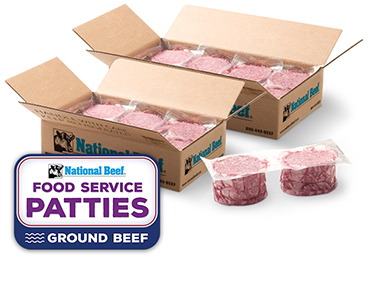 Food Service Patties from National Beef
It takes flippin' good patties to make flippin' good burgers. And National Beef's Food Service Patties help you serve up the flippin' best. We produce our fresh patties entirely on site in popular formats, shapes, and sizes. The result? Predictable cookability, consistent quality, and an out-of-this-world eating experience that will have your customers coming back for more.

If you're flippin' burgers, make sure they're flippin' good burgers from National Beef.
Flippin' Good Processing
Consistency isn't just key—it is crucial. That's why our state-of-the-art processing equipment produces patties exactly how you need them, meticulously and deliciously, time and time again.
Verified lean points for reliable cook times and flavor
Diagonal forming for enhanced bite and texture
Double vacuum-sealed packaging for a 20-day shelf life
Paper between each patty for easier handling
Flippin' Good Food Safety
At National Beef, safety comes first. And it all starts with our Biologic® Food Safety System which exceeds industry standards for product safety. That means we craft our patties entirely onsite, source our own trim, and process them in a closed-loop system with an unbroken cold chain and triple metal detection. So you can serve our patties with peace of mind.
Contact Us
Flippin' Good Eating Experience
It's not the toppings or the bun. It's the beef that makes the burger. And National Beef's food service patties make them undeniably incredible with rich flavor, superior juiciness, satisfying bite, and irresistible texture. Put it all together, and you've got what it takes to build a best-in-class burger, a loyal customer base, and a reputation for deliciousness.
Contact Us