June 3, 2021
Vaccines: A New Tool to Protect Our Employees and Communities
From Tim Klein, CEO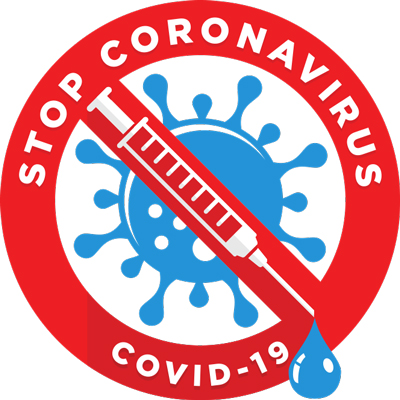 It is hard to believe we are well past the pandemic's one-year mark globally, and while we are still faced with unique challenges from COVID-19, we have new ways to meet these challenges and brighter days ahead.
In addition to the many proven safety measures we have employed over the past 15 months, we are grateful to have another tool to protect our employees — COVID-19 vaccines. With these vaccines now widely available across the country, there is continued hope for protection from COVID-19.
We worked diligently with our partners to provide our employees with credible, multi-lingual information and resources, so our team members could feel confident, safe and informed about the vaccine. We're proud to have had vaccines available to every employee at all our facilities and families at some locations. We will continue to secure vaccines and provide protection to all our employees who choose to receive the COVID-19 vaccine.
Additionally, we've been focused on our multi-layered COVID-19 prevention practices in our facilities. Our partners since the onset of the pandemic have been local health officials. As a result of these practices and our team members' consistency, dedication and resilience, these prevention procedures helped reduce the number of COVID-19 incidences in our facilities, even when they increased around the country.
We always prioritize the safety of our employees and communities to better protect the people in our facilities, towns and states. We have been and will continue to be committed to hiring and securing resources from our local communities. It is vital to protect the lives and well-being of our employees who are carrying out the mission to feed America's families.
As new information becomes available about COVID-19, we remain committed to informing, educating and answering questions for our workforce with accurate and unbiased information about all the ways our employees can protect themselves and their loved ones against COVID-19.
Throughout the pandemic, we have driven change through commitments with local, county and state leaders and UFCW2. We are grateful for their collaboration on securing the vaccine to continue fighting the pandemic for both our current and future employees. This work has proven to our team and to me once again: Together, We are Better.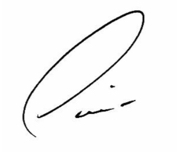 Tim
---
September 23, 2020
The Journey Continues: An Update on Our COVID-19 Response
From Tim Klein, CEO
It's been nearly six months since COVID-19 entered our lives and our communities. I could never have imagined then that we would still be dealing with this six months later, nor do I know when we will be done. But these are the things I do know based on these last six months:
The very best people work at National Beef.
Every single one of them. It hasn't been easy. In the beginning, we were rapidly adjusting our processes and protocols to improve safety while managing COVID-19 cases in our plants and our communities. Our industry was often in the local and national news for the wrong reasons during a time when we were all learning how to combat Covid-19 and keep our people safe. And yet our employees continued to deliver — safe, quality beef products, ideas for improved safety, and time and talents to help their families and communities thrive in challenging situations.
The road ahead has twists and turns.
There isn't a manual for what we are working through, but great employees, creative ideas, and amazing partners help us navigate. Our team is successfully moving forward on a twisting, turning road from our employees managing family and homeschooling to our entire value chain, shifting to meet vastly different grocery and foodservice needs.
The National Beef family goes far beyond our walls.
It's written all over our facilities: "We Are Family." Our employees have embodied this motto so much over the past six months in how they take care of their fellow employees, their own families, and their communities. But these challenging times have shown me our family goes far beyond our facilities.
To the ranchers who raise quality cattle, to the transportation teams that carry our National Beef products across the country, to the customers who worked with us as we adjusted to changing foodservice and consumer demand — YOU are part of the National Beef family.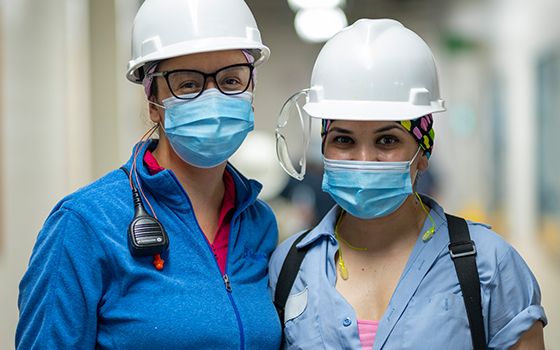 When you are part of a family, you value each other for who you are, support and challenge one another to grow, and together, you celebrate both big and small wins. We're honored and grateful to be part of one National Beef family.
So, as we celebrate this very unique milestone, I simply want to say thank you for your support over the last six months. And thank you for being with us on the road ahead.
With gratitude,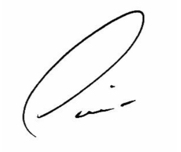 Tim
---
June 11, 2020
Continued Progress Amid a New Normal
From Tim Klein, CEO
For many of us at National Beef®, we've started to adjust and settle into the changes we made as a response to COVID-19. I'm proud of the great work of our team as they developed and executed a strategy to keep our employees safe while continuing to deliver high-quality products to our customers.
We know that we won't be able to go back to how things used to be. We are committed to continue improving our practices, keeping our employees safe and supporting and helping our communities and neighbors.
As part of our continued commitment:
We have extended our employee emergency pay and benefits through June 28, 2020.
After the Centers for Disease Prevention and Control visited our plants, we established a COVID-19 task force and facility coordinator in each production facility. The responsibilities of these important individuals include assessing and planning in each facility to ensure all federal public health guidelines are being met. This team of individuals will work closely with National Beef leadership to develop new and evolving safety practices regarding COVID-19 moving forward.
We are grateful to have received support from our community and neighbors through this challenging time. We are now giving back, focusing our efforts on supporting the communities where we live and work as well as the local businesses who provide needed goods and services to our employees and their families. These past three weeks, we have committed $1.7 million for assistance to our friends and neighbors - here are a few ways we are supporting them:
Education—A strong community relies on access to educational opportunities. We recognize that teachers and students have faced major changes and challenges as a result of COVID-19, so we have donated funds to support key infrastructure needs of educational institutions. From laptops for students, to internet access expansion, to support for additional sanitation supplies and bolstering school emergency funds, we want to help community students continue learning.
Food, Utilities and Basic Necessities—COVID-19 has put a strain on the economy, including members of our communities who may need extra assistance at this time. We've donated funds and in-kind products for food pantries, provided gift cards for restaurant meals and have provided support for utility bills for small businesses in our area.
Healthcare—Our hospitals, healthcare workers, first responders and public health experts have been vital in keeping our communities safe. To support them in their mission against COVID-19, we've provided disinfecting solution tools and equipment to ambulances and fire departments, commercial washers and dryers for sanitation of EMT uniforms, provided meals to county sheriff's departments, local fire and police departments, hospitals and other healthcare facilities.

Seniors and Children – Key contributors in each of our communities are our elderly and young citizens.

We have focused on them and the organizations that serve them.

Our donation to one local nursing home allowed the purchase of iPads for each resident so they could stay in touch with loved ones during this long separation.

We have also supported Veterans Homes, Community Action Centers, Senior Centers, Foster Care programs, Boys and Girls Clubs, childcare centers and men's and women's shelters.
While our commitment is the same, our actions are changing and evolving as we learn more about how to aid in the COVID-19 response and the needs of our communities.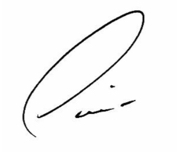 Tim
---
May 1, 2020
Changing and Adapting is our Order of Business
From Tim Klein, CEO
These have been incredibly challenging weeks for our industry and for National Beef. Our entire value chain – from our ranchers to our consumers – has felt and will feel the impact. I want to begin by quickly reminding you of our two key principles:
The safety and well-being of our employees is our number one priority
We remain dedicated to our role, as an essential business, of providing safe, quality beef to our customers and American families.
With regards to our production facilities:
I continue to be amazed by the spirit of our team members. Yes, in our Kansas and Iowa facilities we operate in areas with high COVID-19 case counts, but that is due in large part to the on-going testing of our workforces. We continue to communicate daily with our employees on the role they, we and our communities play in keeping them safe and healthy.
We have invited and welcomed leaders from the CDC and our state and local health authorities to tour our facilities, meet with our team members and review our safety procedures. They are pleased with the measures we have taken to ensure the safety of our employees and are committed to helping us operate AND take care of our employees.
We have extended our Special Emergency Response Pay and Benefits for all of our production employees through May 31. All hourly plant employees will continue to receive these additional benefits which includes the $2 per hour increase in their base wage rate for all hours worked that began March 16.
President Trump's Executive Order that ensures meat and poultry processing operations continue will help us maintain our production and ability to keep quality beef on the tables of our American families.
We are overwhelmed with the support of our communities. Through both social media and direct contact with local leaders, we have shared updates on our teams and facilities, welcomed their questions and gratefully accepted their support.

The only sure thing these days is constant change, and as we adapt to these changes, we will continue to share updates with you. Thank you for your support of our team, the beef industry and our farmers and ranchers.
Mil Gracias… One Thousand Thank You's 
We are very proud of the many actions we've taken in response to this crisis, but most of all we are proud of our employees who are coming to work each day and following safe practices at home as well. Thank you for all you've done, all you are doing, and all we will do together in the weeks and months ahead to work safely and provide beef to American families.
From the National Beef family to yours, thank you.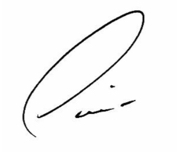 Tim
---
April 17, 2020
Committed to Employee Safety and Our Communities
From Tim Klein, CEO
Across our country and specifically in the communities in which we live and work, we are collectively experiencing unprecedented times. Times that require the resourcefulness of our suppliers and ranchers, the strength of our customers, the support of our communities and the courage of our employees, in order for us to rise to this challenge.
These words won't ever be enough, but they're heartfelt and sincere… Thank You.
Each of you plays a vital role as National Beef continues to be one of the leading suppliers of quality beef products. We are an integral part of our nation's critical infrastructure, keeping America's food supply operating throughout this pandemic, a serious and special responsibility.
Our highest order and priority is always ensuring and protecting the health of our employees, and especially throughout this time. We have been sharing daily updates with our 9,400 employees and have made significant investments for them. However, as our communities and consumers have become increasingly aware of our role in the food supply chain, I feel it is critical you are also aware of these changes.
First and foremost, know that every leadership decision is focused on reducing the spread of COVID-19 throughout our communities and upholding our commitment to the safety and well-being of our employees. We are following the guidance of the Centers for Disease Control and Prevention (CDC) and state and local health authorities in our plants, offices, and entire operation to help keep our employees safe.
Our enhancements come in these key areas:
---
Employee Health
We are conducting temperature screenings of employees and personnel entering our facilities to help us identify and isolate employees who have a fever, one of the COVID-19 symptoms. Employees who have a temperature higher than 100.4° Fahrenheit are required to return home until they are fever free for 72 hours.
We have daily reminders to our employees who are sick to STAY HOME.
We continue to provide updates to employees on practices to enhance health and safety and stop the spread of COVID-19.
Our special Emergency Response Pay and Benefits provisions require and allow employees who don't feel well to stay home and includes relaxed attendance policies.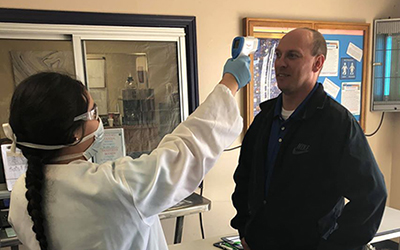 We are conducting temperature screenings of every person prior to entry in all our facilities.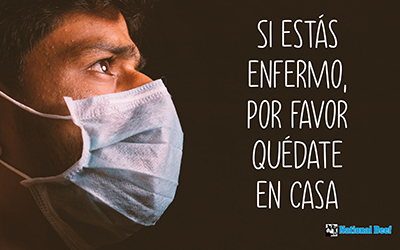 We provide daily reminders to employees about how to reduce the spread of COVID-19.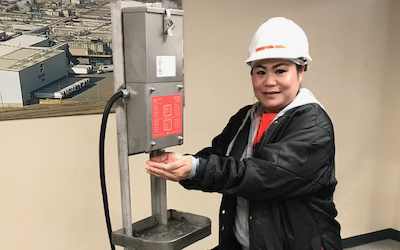 We have provided additional hand sanitizing stations throughout our facilities.
---
Safety Measures
We have an ample supply of disposable face masks for employees; face shields are also readily available.
We have installed stainless steel partitions between workstations on the production floors for increased safety.
As always, our facilities are thoroughly sanitized and disinfected daily, following our strict sanitation protocols.
We have increased frequency of sanitation in employee common areas, such as eating areas, locker rooms, handrails, doors and other frequent contact surfaces.
We have increased the number of and ease of access to hand sanitization stations.
We have implemented protocol to keep drivers in their trucks while on our property; providing them a non-contact lunch delivery at the security gate.
Visitors are restricted to only those classified as essential by the General Manager and must complete a health screening before entering the facility.
All visitors follow the same protocol as employees for temperature checks and other precautions.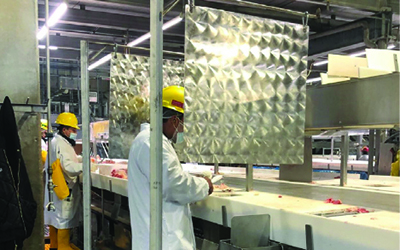 We have installed stainless steel partitions between workstations on the production floors for increased safety.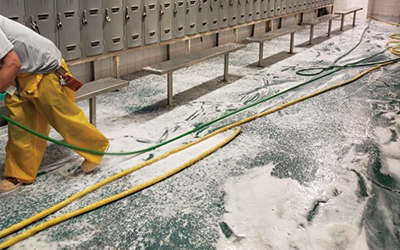 Daily enhanced sanitation and fogging of employee locker rooms, cafeterias, break areas.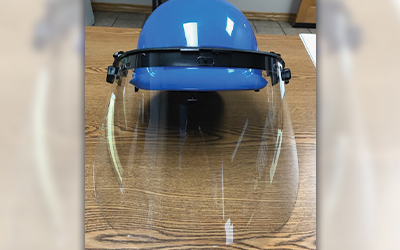 Face shields are offered to employees who have difficulty wearing face masks.
---
Social Distancing
We have installed plexiglass dividers at cafeteria tables and other locations throughout the facility to provide safety barriers between employees.
Employee break and lunch schedules have been staggered to reduce congestion in hallways, break areas, locker rooms and other common areas.
We have increased physical space by putting up tents and by moving tables into these areas to allow employees to practice increased social distancing at breaks/lunch.
We have limited the number of individuals/employees in meetings to 10 or less.
New Hire Orientation classes are limited to 10 people per classroom.
We continue to educate our employees and share social distancing guidelines and practices.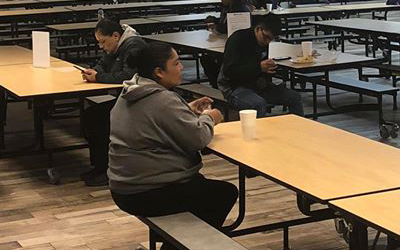 We are staggering break and lunch schedules to allow for more effective social distancing.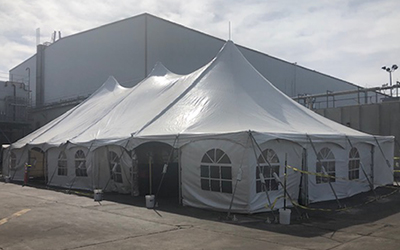 We have provided tents that increase physical space during breaks to improve social distancing opportunities for employees.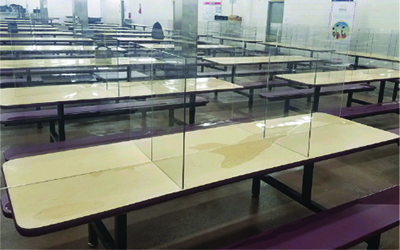 Plexiglass barriers have been installed on tables and other locations throughout the complexes.
---
Special Emergency Response Pay and Benefits
In recognition of invaluable contributions during this period, we are offering the following Special Emergency Response Pay and Benefits for our production employees from March 16 - May 10, 2020:
Emergency Response Pay: All hourly production plant employees will receive a $2 per hour increase in their base wage rate for all hours worked from March 16 – May 10, 2020.
Quarantine Pay: If an employee is prohibited from working and must stay home due to a quarantine required by a government agency or by National Beef, the employee will receive up to two weeks of regularly scheduled hours missed at their base wage rate.
Sickness & Disability: The seven-day waiting period will be waived for employees eligible for disability benefits under our sickness and accident plan due to COVID-19.
TeleDoc: 24/7 access to health providers via phone, available at all locations. All applicable copays are currently being waived.
Prescriptions: All employees can fill 90-day prescriptions at local pharmacies with a 30-day copay.
---
---
At National Beef, we are honored to have the industry's best employees. They have my full commitment – that we will do all we can to keep them safe as they help us fulfill our obligation to provide an uninterrupted food supply to families across America during the COVID-19 pandemic.
The greatest lesson we've learned over the past several weeks is how we at National Beef are connected to so many:
Our farmers and ranchers, who grow cattle that becomes our high-quality beef;
Our suppliers, who provide materials that enable us to bring beef to market;
Our customers, who sell our quality beef to American families;
Our communities, who support our employees and their families;
Our employees, whose never-ending commitment to quality and safety inspires us each day.
We offer our debt of gratitude to all of you – to our employees and families who work and live in our communities; our city, county and state leaders who support and enable us to safely operate; and to our customers, who work to ensure National Beef products are readily available to consumers across the country.
From the National Beef family to yours, thank you.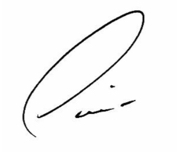 Tim
---