FOOD SERVICE PATTIES
Burgers Built for Success
Our Burgers Mean Business
Choosing the right patty is critical to your success. And with National Beef as your patty partner, you can't go wrong. We produce our fresh patties entirely on site in popular formats, shapes, and sizes. The result? Predictable cookability, consistent quality, and an out-of-this-world eating experience that will have your customers coming back for more.

Flippin' Good Burgers
from National Beef
There are burgers—and then there are flippin' good burgers from National Beef. See how our food service patties are making operators "flip" in our latest campaign.
Learn Flippin' More
---
Processed with Precision
For food service operators, consistency isn't just key—it is crucial. That's why our state-of-the-art processing equipment produces patties to your operation's exact specifications, meticulously and deliciously.
Verified Lean Points
All National Beef patties meet a specific lean point that is printed on the label, so you get the consistent juiciness and after-cooking yield you expect.
Innovative Forming
Our unique tenderforming process uses diagonal—not downward—pressure, resulting in an overlap binding effect that greatly improves bite and texture.
Superior Quality
We conduct hourly quality assurance assessments at our patty processing facility to verify lean point, weight, thickness, and diameter requirements.
Smart Packaging
We hand-pack our patties to reduce breakage, double vacuum-seal them for extended freshness, and place paper between each patty for easier handling.
View Products
---

A variety of lean points and primal options

Available in Angus, Hereford, and Natural

Three shapes: homestyle, round, and oval

Four formats: Slider, EZ Smash, Thin, and Thick

Multiple weights, thicknesses, and diameters
Serious Food Safety
Delicious patties mean nothing without strict food safety. So we craft ours with trim sourced entirely on site, reducing the risk of third-party contamination. We then process them in a closed-loop system with an unbroken cold chain and pass them through metal detection three times—including once after the package has been sealed—so you can serve our patties with peace of mind.
Learn more about our Biologic® Food Safety System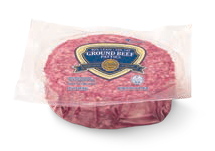 Retail Ready Patty Program
Interested in National Beef patties for retail? Contact your National Beef representative to learn more about our Retail Ready Patty Program.
Contact Now
---
Incredible Taste They Can't Resist
It's not the toppings or the bun. It's the beef that makes the burger. And National Beef's food service patties make them undeniably incredible with rich taste, superior juiciness, satisfying bite, and irresistible texture. Put it all together, and you've got what it takes to build a best-in-class burger, a loyal customer base, and a reputation for deliciousness.