RETAIL READY BRICKS
Stock Your Case with Convenience
---
A Comprehensive Offering
National Beef® retail-ready bricks come in a variety of lean points and primal grinds, allowing you the meet the diverse needs of your shoppers. No matter the demand, National Beef is here to help you build a flexible beef case offering:
1-lb. and 1.33-lb. net weight brick sizes
Scannable barcode
Extended 24-day shelf life
Multiple lean points and primal grinds available
Multiple box size options (ships as small as 18-lb. box)
View Products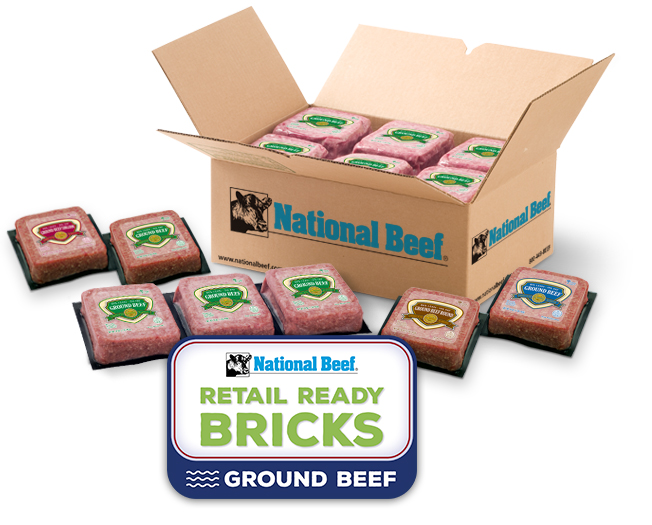 ---
Consistency & Efficiency
We ensure the consistency of our retail-ready bricks through state-of-the-art processing technologies that produce uniform lean points and particle sizes. Our bricks' package design is based on extensive shopper research, and its easy-to-stock format makes inventory management simple. Watch the video and discover what sets our bricks apart from the rest.
Our packaging includes:
Clear, leakproof wrapping to reinforce freshness
Natural indicator to satisfy health-focused shoppers
100% beef messaging
Product of USA statement
---
Introducing Our New  5lb. Bricks
Our newest ground beef offering delivers 5 lbs. of fresh, high-quality ground beef in convenient packaging that makes things easy for your meat department.
Exact 5 lb. weight
Vacuum-sealed, leak-proof packaging
Extended 24-day shelf life
Small 20 lb. case size
View Products