Variety Meats Program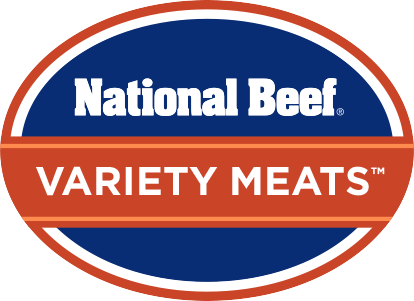 Explore all your Options
Our Fresh Chilled Variety Meats program appeals to your ever-changing customer needs. Take advantage of this evolution by choosing a high-quality Variety Meats program. As your trusted partner, you can be assured of your program's quality, supply, convenience and value. Better yet, ordering, packaging and delivery options are always easy with National Beef.

11 POPULAR FRESH CHILLED ITEMS

COnSUMER READY VACUUM-SEALED PACKAGING

VARIETY OF PACK SIZES

30 DAY SHELF LIFE 18-day fresh liver
Superior Quality and Convenience
The benefits of our Variety Meats program are impressive. Choose from 11 fresh chilled items and simply order in addition to your regular boxed beef order. You'll also enjoy a range of multiple pack sizes from 2 lbs. to 10 lbs., perfect for immediate sale. With our comprehensive offering, the case-ready vacuum-sealed packaging offers a 30-day (18-day for Fresh Liver) shelf life providing flexibility, shelf stability and inventory management efficiency.
Our Fresh Chilled Variety Meats program offers popular selections that come in an assortment of options for added flexibility and efficiency. Our process includes a 40-45-minute glycol chill bath at 20-25º F to deliver fresh product. It chills without freezing, providing high-quality fresh meat.
View Products +
Scalded Diced Tripe and Scalded Tripe
Bring added value to your meat case or menu with our Scalded Tripe, which also includes a diced option. You'll find small and large pack sizes that offer even more convenience. It's vacuum-sealed and ready to prepare while offering a 30-day shelf life.
View Products +