FOOD SERVICE
Build a Reputation with Consistent Plate Performance
COUNT ON US
Black Canyon® Angus Beef for food service is committed to delivering only the best product quality, safety, and freshness with all the tools, programs and support you need to connect with your patrons in new and effective ways. Trust us to deliver for you!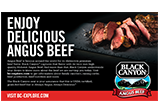 Engage Your Patrons
Share the heritage of Black Canyon Angus Beef quality and drive consumer interest and loyalty with our appetizing and informative menu inserts.
BUILD TRUST THROUGH TRANSPARENCY
Iconic Black Canyon brand imagery, steeped in the heritage of the Angus breed, builds consumer trust, drives interest, and increased sales. Catch the eye of your patrons with branded table tents and steak imagery. Go to bc-explore.com to meet our ranchers and find out more about our quality beef program.
Establish a new level of trust and confidence with our comprehensive Connect with Consumer merchandising and support program, offering transparent information, tools, and digital support for today's savvy patrons.