RETAIL
Turn Your Meat Case into a Destination
A STELLAR BEEF CASE
From the appealing imagery of our case dividers to creative point-of-sale and strong digital support, Black Canyon® Angus Beef marketing materials promote a consistent message, brand, and transparency that will build a relationship with your consumers and grow your Angus beef case sales.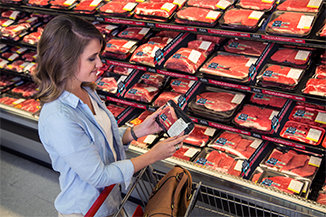 UNIQUE PROGRAMMING
Connect with Consumers is our comprehensive merchandising and support program that offers transparent information to today's savvy customer both in store and online. Establish a new level of trust that will build confidence and help differentiate your operation from the competition.
LABELS BUILD LOYALTY
Our Black Canyon labels add value to your beef offering. Help differentiate your meat case and establish loyalty with the quality beef your consumers want.
Engaging Point-of-Sale
Create a beef case destination with a variety of point-of-sale materials that help educate and inform consumers.
CONNECT WITH CONSUMERS
Through our Connect with Consumers program, shoppers have access to rancher interviews, tools, recipes, infographics, and more—providing the knowledge and transparency they're looking for—conveniently located on
bc-explore.com.